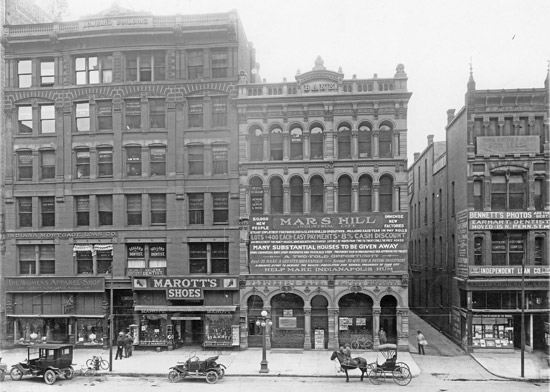 Bass Photo Co Collection, Indiana Historical Society
The Model T's and the horses are long gone but this sign downtown, from a 1911 photo out of the Bass Photo Collection, was put up to sell lots in a new neighborhood on the southwest side of Indianapolis called Mars Hill.
Neighborhoods start for all kinds of reasons, few exist with the original idea in mind and so was the case for this new neighborhood.  The sign advertised lots for sale in the new neighborhood.  Local businessmen wanted the new neighborhood to attract workers to run the steel mills they hoped to build that someday would compete with mills in Gary, Indiana and Detroit, Michigan.  While the dreams to compete died long ago, Mars Hill is one of Indianapolis' great working neighborhoods.
While Mickey & Bill's Pizza has been in Mars Hill since 1965,  and may be Indianapolis' oldest pizza shop we can't say we have ever seen the modes of transportation displayed in the photo around the pizza shop lately.